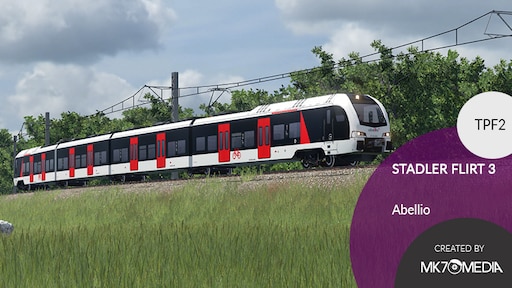 This mod introduces the Stadler Flirt 3 with the Abellio Livery, The baseline design of FLIRT is an electric multiple unit articulated trainset that can come in units of two to twelve cars with two to six motorized axles
Features:
Interior.
Recolorable.
Animated Doors.
Cabin Driver.
Reverse driving.
Included Livery:
Abellio
Available from 2000 with a life span of 40 years, costing 40.0M.
Available Liveries:
– STADLER FLIRT 3: Livery Pack
– STADLER FLIRT 3: Süwex
– STADLER FLIRT 3: Abellio
– STADLER FLIRT 3: Arriva Limburg
– STADLER FLIRT 3: Regio Deutsche Bahn
– STADLER FLIRT 3: Nederlandse Spoorwegen


Disclaimer:

This Livery has been made by Flynn, model has been created by LexyGone,

I will not be held accountable for game crashes or errors, use these mods at your own risk.