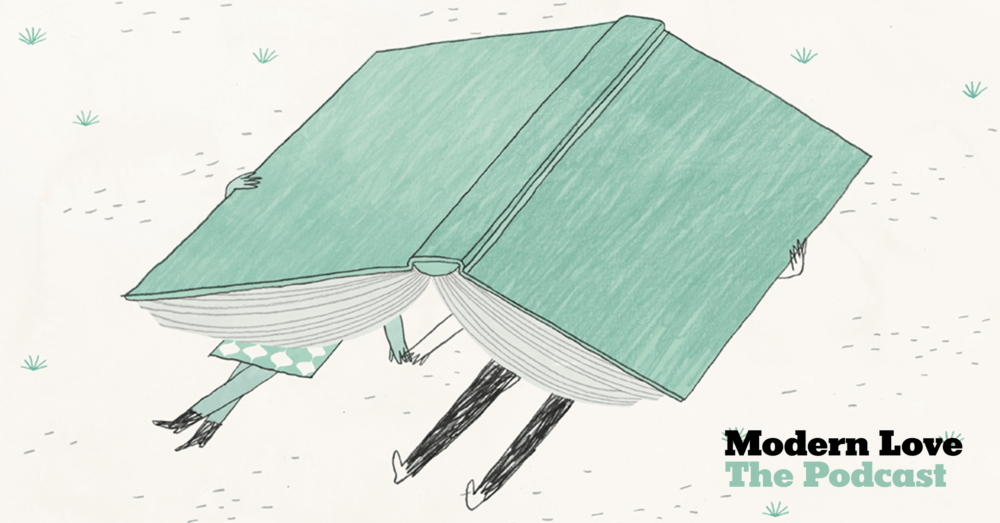 There is something wonderful about sharing your favorite books with the person you're falling in love with. And Karla Derus was a longtime book lover with a lot of favorites. But she also had a secret.
Uzo Aduba reads Karla's essay, "How Bibliophiles Flirt." She stars in "Mrs. America" on Hulu, which premiers on April 15.
Where Are They Now?
So how did David's Post-It note stay in the same book for an entire year? Karla Derus told us how David made sure it stayed safe.
"He says that he put it in there on our seventh date, and it stayed in that book for over a year," Karla says. "It was in the Central Library downtown, and we lived in Santa Monica. So he would drive down to check on the Post-It note in the book to make sure it was still there."
David's Post-It note proposal on 'The Rebel Princess' in Los Angeles. (Courtesy Karla Derus)
That's about a 45 minute drive in Los Angeles traffic. And Karla says she found a way of getting that copy of "The Rebel Princess."
"After he proposed I asked if I could buy the book so I could keep it. And they told me that I couldn't, so I checked it out and never returned it," she says. "I ended up paying 50 dollars in fines, and it's now on my bookshelf."
Karla and David at their wedding in April of 2018. (Courtesy Karla Derus)
Karla and David got married in April of 2018. And just this past December, they welcomed a baby son, Noah.
"It's been amazing," she says. "The first few weeks are haywire and you're tired, but he's also just amazing, and we're in the stage where we think he's the most amazing baby in the history of babies. We're both very enamored."
Baby Noah (Courtesy Karla Derus)
Despite having a newborn, Karla is still reading.
"I thought I wouldn't have time to read with a new baby. But a lot of my reading has been happening lately in the wee hours of the morning in between feedings," she says. "He'll wake up to eat, and although they say to sleep when the baby sleeps, you can't always get back to sleep. So I've been using that time to read, and I've gotten a few good books in so far this year."
Recently, she's read "Such a Fun Age" by Kylie Reid, and "Just Mercy," by Bryan Stevenson, which she recommends. And she has a little advice for listeners.
"Read a book."
Voices In This Episode
Courtesy Uzo Aduba
A formidable talent to be reckoned with, Uzo Aduba is an award-winning actress whose work spans television, film and theatre.

Aduba will next be seen in the highly anticipated series MRS. AMERICA on FX on Hulu. The upcoming miniseries will premiere on April 15th and tells the true story of the movement to ratify the Equal Rights Amendment, and the unexpected backlash led by Phyllis Schlafly. Aduba stars as Shirley Chisholm who made history as the first African American elected to the United States Congress. The series also stars Cate Blanchett, Sarah Paulson, Rose Byrne, Margo Martindale, Elizabeth Banks, Tracey Ullman, James Marsden, John Slattery and more.

Currently, Aduba is in pre-production for AMERICANAH staring opposite Lupita Nyong'o on HBO Max. AMERICANAH is a 10-episode limited series that is based on Chimamanda Ngozi Adichie's best-selling novel of the same name.

Aduba recently finished her celebrate run as Suzanne "Crazy Eyes" Warren in the critically acclaimed Netflix Original Series ORANGE IS THE NEW BLACK. For her role, Aduba won the 2015 and 2016 Screen Actors Guild Awards for "Outstanding Actress in a Comedy" and was a part of OINTB's win for "Best Ensemble in a Comedy."

Before starring on television, Aduba made her Broadway debut in CORAM BOY in 2007 followed by the hit musical revival of GODSPELL in 2011. Aduba was nominated for a Helen Hayes Award for Best Supporting Actress in a Play for her work in the Kennedy Center/Olney Theater production of TRANSLATIONS OF XHOSA.
Courtesy Karla Derus
Karla Marie-Rose Derus is a lifelong reader and writer.  She has a B.A. in English and a Master's in Afro-American studies from UCLA.  Her writing has appeared on Gawker and in the literary magazine Spook. Originally from Seattle, she loves rainy days, strong coffee, and finely sharpened pencils.  She is perpetually at work on her first novel and lives in Los Angeles with her husband and son.  You can find her on Instagram @karlareadsandwrites.