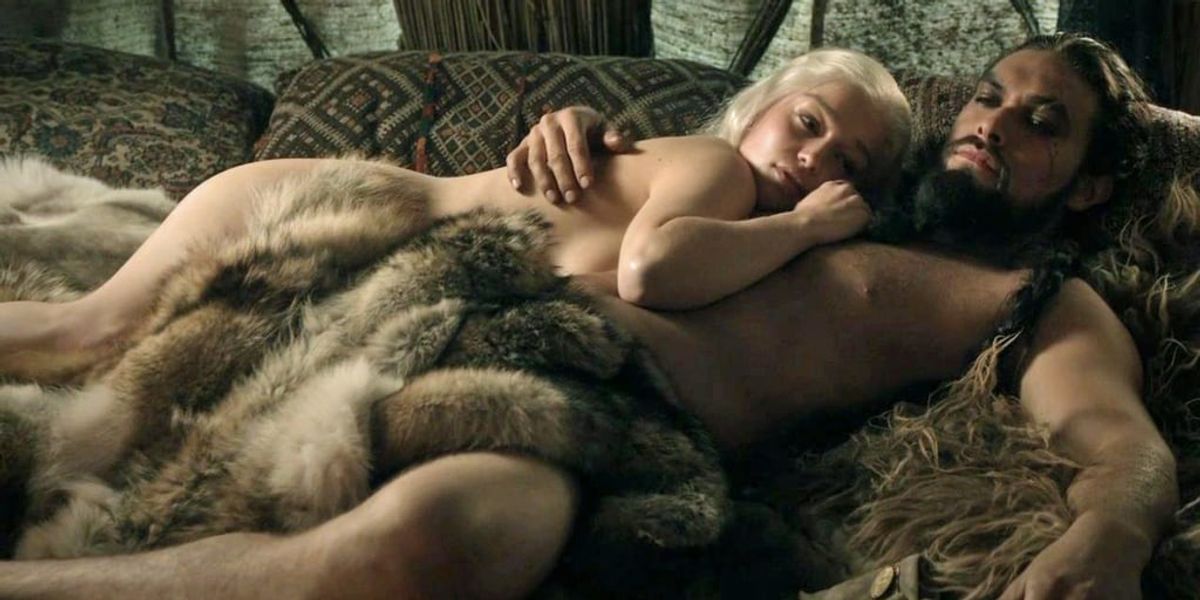 If you say you don't watch Game of Thrones for the flashes of magnificent knight butt and frequent corset-dropping, you're lying.
Sure, it's the biggest budget production in the history of television, features award-winning acting, stirring moments of cinematography, and illuminating character studies, but if we're honest with ourselves, we're in it for the full frontal. Khal Drogo and Khaleesi making sweet love for the first time? Why else have an HBO Go subscription? Every single time Daario's magnificent rear end was on screen? A religious experience. John Snow and Ygritte breaking the oath of the Nightswatch in the geothermal spring? Uncomfortable to watch with your parents for the first time, very comfortable to watch under the covers on YouTube later that night.
As a show that ruined the psyche of every twelve-year-old whose parents said "I mean it's probably fine if he watches," Game of Thrones has a long list of steamy moments only HBO could get away with. Winter is coming, and so are we.
10. Daario and Khaleesi

Michiel Huisman's Scenes: Game of Thrones – 5×07
youtu.be
Remember that divine ass we mentioned before? Ah, Daario Neharis, you turned out not to be the reliable bedfellow we may have hoped for our dragon queen, but we sure did enjoy the ride while it lasted. By the looks of it, so did Daenerys.
9. Tyrion and Shae

Tyrion and Shae first meeting/love
youtu.be
There are too many excellent Shae and Tyrion moments to count and it's hard to beat this couple in terms of virility or witty repartee. To get to the really steamy stuff, we recommend heading to the beginning of the second season, you know, before things got all complicated by patricide and betrayal.
8. Ros and Littlefinger

S-exposition Littlefinger, Ros & Armeca Brothel Scene (Baelish Love Story of catelyn )
www.youtube.com
Warning: this clip is particularly NSFW. Or public transport. Or when family is around. Or roommates. Or pets. Realistically, lock yourself alone in a room with headphones and closed curtains before watching this clip of Ros's introduction to the capital city and the ways of southern lovemaking.
7. Jon Snow and Ygritte

You Know Nothing, Jon Snow – All Parts HD – (Spoiler Alert)
www.youtube.com
Does it make this iconic scene hotter that these two actors are married in real life? Yes. Is it creepy that we all have a solid approximation of what their marital love sounds and looks like? Yes. Is it weird that that kind of makes it hotter? Yes.
6. Oberyn, Ellaria, Olyvar

Game Of Thrones Season 4 – The Red Viper
www.youtube.com
Ah, Oberyn (RIP), so tantalizingly slimy. While GOT has provided a lot of "oh man I wish I wasn't watching this with my Dad" brothel scenes over the years, this is by far our favorite. How could we leave a good ol' bisexual orgy off the list!
5. Viserys and Doreah

Game of Thrones Skull of Great Dragons
youtu.be
We certainly don't miss Daenerys' mewling older brother, but it's hard to resist a little bit of dirty dragon talk and bathtub sex. We wish he could have been a little more chill about her attempt at hot wax play though.
4. Robb and Talisa

Talisa's History – Game of Thrones 2×08 (vostfr)
youtu.be
Hot tip: fast forward to the end of this clip just like you fast forwarded to the part in this season where you finally got to see Rob Stark's fine northern body. AWWOOOO! (Dire wolf howl)
3. Missandei and Grey Worm

Missandei and Grey Worm love
www.youtube.com
This one is equal parts hot and heart wrenching, a true molotov cocktail of GOT nudie scenes. We know grey worm can't exactly deliver in the bedroom, but Missandrei shows she wants him anyway. If you're looking for an even spicier scene, head here to see when the couple finally seals the deal.
2. Jon Snow and Daenerys

Jon Snow and Daenerys Targaryen Sex Scene
youtu.be
You didn't think we'd forget to include this, did you? After seemingly endless episodes of "will they or won't they," they finally do, and…do they ever. The old and new gods truly blessed us with that candlelight contour of the kind of the north's southern hemisphere.
1. Daenerys and Drogo

Daenerys Fandub; "Tonight I would look upon your face"
youtu.be
Last, but certainly not least, we have the scene that probably left you in night sweats for weeks. Khaleesi finally does what every modern woman has to learn how to do: ask for what she wants in the bedroom and our hunky horse lord is into it. Don't lie, you've whispered in a lovers ear, "tonight, I would look upon your face" at least once since the first time you saw this scene. We don't blame you, Jason Momoa's barbarian build inspires that kind of carnal risk-taking.